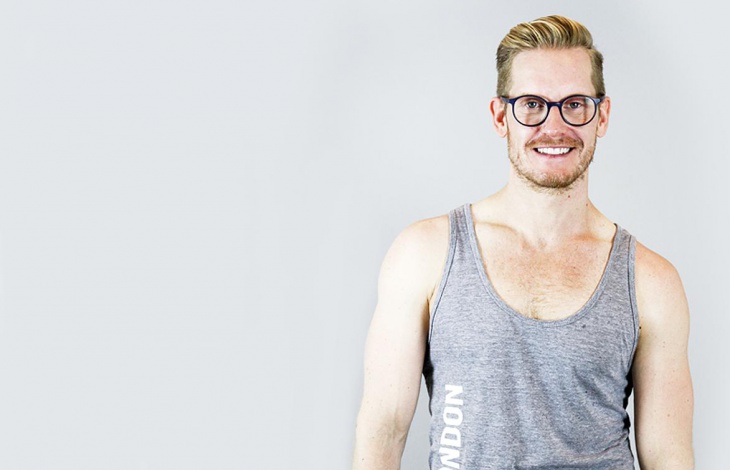 My Brain Tumour Didn't Stop Me!
From being diagnosed with a brain tumour to becoming 'Head of Barre' at Psycle London Rod Buchanan is a truly remarkable person.
In 2010 professionally trained dancer, Rod Buchanan was devastated by the news of being diagnosed with a meningioma; a brain tumour the size of a baby's fist.
He had been suffering from the symptoms for over 18 months and knew that something was very wrong but his diagnosis still came as a shock.
"I'll always remember his words: 'Mr Buchanan, we have found an obstruction on your brain," Rod said.
The news did, however, give Rod the reason behind months of headaches, dizzy spells and pain.
"Deep down, I had always known something was seriously wrong with me but when your friends and even the medical professionals doubt you, you begin to doubt yourself," Rod said.
Now that he had a diagnosis he could start working with the doctors to begin fighting to get his life back.
Rod said his 'survival instinct kicked in immediately.'
He needed four surgeries including an emergency operation scheduled the day after his diagnosis to relieve the pressure build up on his brain.
His parents flew in from Scotland to be with him.
The other three surgeries were to fit an external drain, remove his brain tumour and the finally to put in an internal drain called a shunt.
It wasn't easy but Rod was determined to get through it all.
"After each surgery I was violently sick from the anaesthetic but the fight continued, I was one step closer to beating this, that's all I could think about," he said.
The battle didn't end with simply removing the tumour though; Rob spent 6 weeks recovering at home and after that he still had to fight the mental trauma.
"Once I was cleared to go home, I spent the next six weeks at home recovering. Building the muscle in my legs was the hardest part, I pushed myself hard, sometimes too hard, taking long walks then not sleeping from the pain in my legs," Rod said.
"My head healed nicely but what I wasn't prepared for was the post-traumatic stress of it all. I was paranoid about everything. I felt nervous even just walking; scared I'd fall and bang my head. If I felt a little under the weather, I automatically thought I was dying."
After his diagnosis and surgeries Rod put away his dancing shoes but he didn't just settle and get a desk job; his drive to recover became what he needed to become 'Head of Barre' and a RIDE instructor at Psycle London.
Psycle London is a fitness studio that focuses as much on having a healthy mind as it does having a healthy body; they promote connection, strength and community.
In March Rod lead two classes for people who have been affected by brain tumours.
Rod hoped the classes made everyone who attended feel hopeful and showed them that they are not alone.
"If we spread awareness this awful illness can be diagnosed sooner," Rod said.
Going through this awful experience has shown Rod how strong he can be and has given him a new perspective on life.
"People often ask does the experience change your life? Easy answer; yes," Rod said.
"It made me come to understand what a fighter I am and what I'm capable of. I no longer sweat the small stuff because in the back of my mind there is a little voice telling me that I've been through a lot worse."